Fees for Posting City Job Opportunities
League members: No cost
Non-members (including those outside of Minnesota): $11.50/day will be invoiced and billed for each listing (minimum posting requirement of 7 days)
How to Submit Job Announcements
Email job announcements to HR-CityAds@lmc.org and include the following:
Your city name.
Job title of listing.
Salary.
Brief job announcement in the format below, not exceeding 150 words (the League does not publish full job descriptions).
Contact information for applicants and/or link to further job information.
Application deadline (posting will be removed at the end of business on deadline date).
All job ads will be posted for no more than three months. If your job is still open after that time and you wish to renew the posting, contact HR-CityAds@lmc.org.
---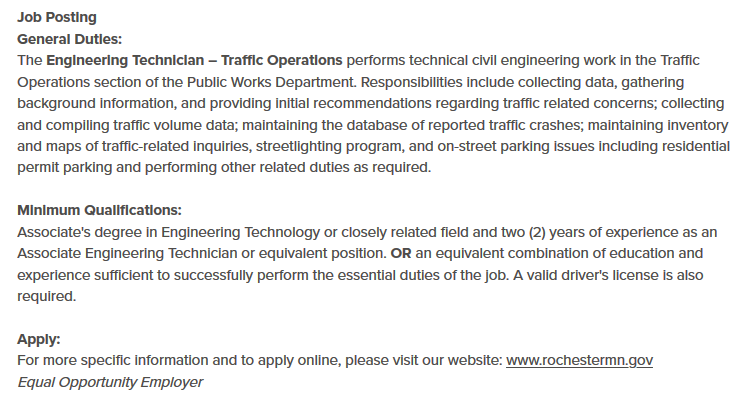 ---
Intern Job Postings
Intern postings will be appear as follows: Intern (department or title) – (City Name)
Seasonal Job Postings
Seasonal jobs will be included in one posting per city and be listed as Seasonal – (City Name). Please send seasonal postings in the format below. You may include deadlines for each individual posting, however, the full ad will not be removed until the deadline you provide for the full seasonal listing.
---