Back to the July-August 2023 issue
D. LOVE: 'Stronger Together' Is His Legacy to Cities
By Andrew Tellijohn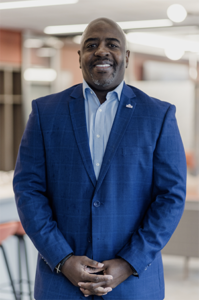 D. Love joined the League of Minnesota Cities Insurance Trust (LMCIT) Board of Trustees 12 years ago. When he was elected to serve on the League of Minnesota Cities (LMC) Board of Directors eight years later, he worked to ensure both organizations maintained a tight relationship and communicated regularly.
In 2021, he was elected as the first Black LMC Board president. He was sworn in virtually due to the COVID pandemic, yet participated in countless in-person meetings between LMC officials and city leaders around the state during a topsy-turvy year in which pandemic fears retreated a bit, then returned.
He has worked tirelessly during his tenure, colleagues say, to find more ways the League can serve its member cities and to ensure the strength of bond between the League and LMCIT.
People remember
Love — who has been involved with Centerville city government since 2002, was elected to the City Council in 2009, and became mayor in 2020 — will leave the LMC Board this year to focus on those duties as well as his job at State Farm and his family, which recently grew to include his granddaughter, Isabelle.
"He's really genuine. He's caring. He's likeable. And he's renowned for his pens," says David Unmacht, LMC's former executive director. "He carries them with him wherever he goes. He gives them out to the waiter, the cab driver, to state legislators and to members of Congress, to police officers. He's always got a pocket full of pens."
Every item Love hands out is adorned with the words "Stronger Together," a belief he espouses in speeches, meetings, and other interactions. And passing out items bearing that slogan gives people a way to remember their interaction, even if they don't recall every detail.
It's part of a philosophy Love takes from the works of Maya Angelou, who said that people remember how you made them feel.
"If you're able to give someone an item that helps them conjure up the interaction, it creates a lasting memory," he says. "They may not remember what you did or said, but they will remember how they felt when they interacted with you."
No agenda
While he had some issues on which he wanted to focus, Love joined the League Board without a specific agenda. He had a desire to serve and be a part of supporting cities around the state.
"I want to approach things to figure out what's the best way to collaborate and lead through change," he says.
Love has focused on how the League can better serve its members. One example is an effort to make several internal- facing LMC departments, like finance and technology, more "forward facing" by making those employees' expertise available for cities to utilize. Another example, he says, is the Grant Navigator, a pilot project through which cities can apply for funding that will help them offset the cost of finding and writing grant applications.
His tenure also overlapped with the aftermath of the death of George Floyd. Love helped to lead important conversations about diversity, equity, and inclusion in the organization — recognizing that cities across the state strive to support residents that have unique needs related to race, gender, age, and economic status. At the same time, he balanced that with a concern and respect for law enforcement and other public safety officials.
He'll be remembered, says LMCIT Administrator Dan Greensweig, for his compassionate nature when tackling mental health and wellness among public safety workers.
The Insurance Trust now has a retired law enforcement officer working solely on public safety mental health issues, specifically looking at alleviating mental health issues related to on-the-job trauma.
"It's something he cares about on a personal level, as well as a professional one," Greensweig says. "He thinks it's the right thing for us to do as an organization in addition to keeping it financially sustainable."
Priorities in order
Unmacht appreciates the work Love did on behalf of LMC, but to a greater extent he admires the way Love carries himself beyond his work.
"There's a man who has his values in order," Unmacht says. "He's a man of faith. He's a man of family. He's a man of personal relationships. He cares deeply about the League, and he is very passionate about the work of the League and the Trust."
His passion and ability to relate to people is impressive, but Unmacht says his positivity and ability to balance is even more so. That was never more visible than in the early days of his presidency when his 21-year-old son suffered a heart attack.
"He's had a lot of stress and he's carried all that through with grace and humbleness," Unmacht says.
Love himself is looking forward to continuing his work in Centerville and to becoming a grandfather for the first time. He admits, however, that it'll be emotional for him to step away from the Board.
"It's been one of the most influential and fulfilling things in my life," he says. "It's been just incredible, an incredible part of my political career that is something I will be able to talk about and take with me for the rest of my life."
Andrew Tellijohn is a freelance writer.