Back to the Sep-Oct 2020 issue
How Are You Doing — Really?
By David Unmacht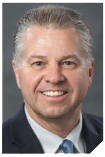 A common question we ask and receive is, "How are you doing?" During a pandemic, these four simple words have much deeper meaning and implications than in normal times. "Oh, I'm fine," is often accepted and given in return. But unlike any other time in our lives, a deeper understanding is needed to fully reveal the real answer.
It's no secret the months of March through July were tough for everyone. I found myself overly focused on the challenges and difficulties, at times losing perspective on what really matters.
Working from the confines of my home, having endless (tiring) virtual meetings, hearing questions I couldn't answer, trying to respond to emergency orders and unrest, and dealing with the inability to control much of what I did — this has all weighed heavily on me.
In retrospect, the biggest challenges were more intangible: the unknown, uncertainty, and unfamiliarity of time and future. My work folders were chock full of 2020 priorities and expectations on March 16 that became dated on March 17. The family calendar my wife and I normally keep full of plans and activities became empty, as there was nothing to track or schedule.
I needed an outlet, and I found it: a near daily devotion to physical exercise. In the first three months of staying at home, I tallied over 153 miles running and 575 miles biking — or the equivalent of the distance between my home in Eagan, Minnesota, to Colorado Springs, Colorado.
The ability to channel my body and mind from the endless work inside to refreshing exercise outside was literally the fuel that kept my balance and semblance of order. I discovered the perspective I needed to do my job and stay focused on what was important. But until a purely coincidental reading about one man's life, I was still searching for the right context.
I discovered that needed context a few weeks ago when I read the marvelous story of Welles Crowther in the book The Red Bandana, by Tom Rinaldi. Rinaldi writes about how the red bandana came to symbolize Crowther's life, death, and memory. He chronicles the choices and the ultimate sacrifice made by Crowther from inside the South Tower of the World Trade Center on Sept. 11, 2001 — a powerful story about a young man's life cut short by choices he made to save the lives of strangers.
The 24-year-old Crowther worked for a financial firm, but his life's passion was firefighting. After his death, an application to join the New York City Fire Department was found in his apartment.
Rinaldi's writing of Welles Crowther's short life brought out all my emotions ranging from smiles to tears.
The parallels between Welles and myself are limited to one. This is where I found the context I was searching for. It came where the book starts, with the red bandana. In January 2018, I went on a mission trip to Haiti. Our leader advised that we purchase bandanas to wear as the heat was unbearable, and they served a highly functional purpose while performing volunteer work for Haitian families.
After looking at my Haiti pictures wearing a red bandana, I spent time reflecting on the context of choices Crowther made, I made, in our personal decisions to help others, although in dramatically different situations. Going deeper, I reflected on the everyday risks and challenges of our first responders, our public health professionals, and all public safety personnel helping and serving others, making difficult choices, and often sacrificing their lives for the sake of others.
And now, coming full circle, the book and my thoughts brought a more meaningful revelation to the question, "How am I doing?" My response now is more honest. If asked, my answer begins with what you would expect during a pandemic, but the true meaning follows: "I'm doing the best I can with a good job, a strong family, my health, and the ability to make my own choices during this difficult time."
I fully recognize that every person's situation is unique: some better, some worse. We also know that conditions and experiences are fluid and do change.
From now on, if you ask a friend, colleague, or family member, "How are you doing?" and they offer, "I'm fine," search for a more meaningful answer. If you are asked, "How are you doing?" — don't hesitate to be honest, especially now.
David Unmacht is executive director of the League of Minnesota Cities. Contact: dunmacht@lmc.org or (651) 281-1205.