Back to the Nov-Dec 2020 issue
Reconnecting and Recharging
By David Unmacht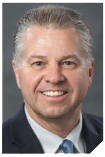 The coincidence of time, place, and song was not lost on me. On a September day, I was driving north in quiet solitude along state Highway 6 from Grand Rapids to Baudette when lyrics of an Eagles tune rang out on my radio: "Somewhere out on that horizon; out beyond the neon lights." I know the words by memory for this aptly named song "In the City," and any passersby gazing in my car certainly wondered what was going on as I enthusiastically sang along.
Fall in Minnesota is beautiful. Bright colors of yellow and red, soaring birds, healthy crops ready for harvest, boundless trees swaying from side to side in the breeze, and sights as far as the eye can see out on the horizon, far away from neon lights. The League team was on the road again and in the lyrics of this song, I felt free, relaxed, and as much as possible, normal again. Whatever that means.
Over the course of the past two months, League officials have had the privilege of resuming member meetings in your communities. About three dozen cities served as hosts for mini meetings in our "St. Paul to City Hall" visiting tour. In lieu of traditional regional meetings, where larger audiences, programs, meals, and social time are commonplace, we planned small member gatherings to serve as listening and learning sessions designed to personally connect with members.
Spearheaded by LMC Deputy Director Luke Fischer and joined by League President Brad Wiersum, First Vice President D. Love, Second Vice President Ron Johnson, and Past President Mike Mornson, we traveled the state. We viewed the picturesque fall landscape from Grand Marais to Thief River Falls, from Willmar to Hastings, from Chatfield to Slayton, and from Blaine to Shakopee. City officials from over 100 cities participated in our meetings.
These meetings — even with masks and social distancing — brought energy, enjoyment, and a shot of adrenaline to our emotions and work. We wanted to hear firsthand what was happening in our cities. How has the pandemic challenged our members in ways unforeseen and unpredicted? How have cities used federal funds to support their operations and budget? How have issues of civil unrest and cries for racial equity affected our communities? In addition, we wanted to ask: "How can the League support you?"
Easily, themes emerged and were repeated from meeting to meeting. There is no one-size-fits-all impact of the pandemic; some cities were barely impacted, and some suffered significant financial impacts manifested by lost revenues and staffing reductions.
Funds provided by the federal Coronavirus Aid, Relief, and Economic Security (CARES) Act were widely used to buy new technology, upgrade HVAC facilities, recover staff overtime, and to support local businesses with grants. We heard that the amount of CARES Act money wasn't an issue, but the guidelines and reporting requirements caused headaches and countless questions.
We heard that diversity in a community is not defined only by the color of a person's skin, but also their age, income, and education. Mayors, councilmembers, and city administrators talked about how important it is to have healthy and productive dialogue with all their citizens, but also how difficult it is to actually host community conversations that may involve tension, especially in a politically charged environment.
We learned of the concerns city leaders share about local government aid and the state budget deficit, as well as the disappointment you feel in the polarized nature of state and federal politics and how that divisiveness is trickling down into local government. We sensed the anxiety our members have, with no clear end to the pandemic and no real idea when things will get back to normal, whatever normal might be.
Yet, above all, we came away fueled by the energy, optimism, resilience, and hope that our city leaders share. We value and appreciate the special relationship the League has with our members and we commit to maintaining a strong partnership.
We learned that you appreciate the timeliness of our information, the value of a useful and easy-to-navigate website, and the multi-dimensional programming we offer. We learned that you want training and support for hosting community meetings. Most of all, we learned that you value and appreciate the personal touch we bring to listening and learning.
Finally, we heard these words repeatedly: "Thanks so much for coming; it means a lot that you came to us." The thanks are all ours: to the hosts for your time and support and to all city officials who participated and shared your experiences and perspectives.
David Unmacht is executive director of the League of Minnesota Cities. Contact: dunmacht@lmc.org or (651) 281-1205.