Back to the May-Jun 2021 issue
What Lasting Changes Will the Pandemic Bring to Cities?
By David Unmacht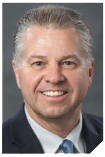 In May of each year, the League of Minnesota Cities Board of Directors conducts my performance review as executive director and sets my goals for the coming fiscal year. Traditionally, there are a handful of distinct goals that vary in their scope and detail.
In May 2020, in the early stages of the COVID-19 pandemic, when circumstances were perhaps most uncertain, the Board conveyed a directive very appropriate for the time, "Unmacht, you have one clear and discernable goal: Weather the pandemic."
Nobody knew at the time what was ahead of us, and little else mattered in the moment. What we thought were our 2020 priorities vanished in relevance and importance literally over a span of a few days.
Expectations for weathering the pandemic were outlined in three stages. Stage one was to immediately ensure we had a business strategy to respond to the impacts of the pandemic on the organization and members.
Stage two was to consider what the pandemic meant for the League's 2020-2021 fiscal year budget process. Traditional budget preparation norms were no longer relevant in the face of the unknown financial implications of a historic public health crisis for our cities and our organization.
It's now been a full 12 months since those expectations were outlined. With confidence and pride, and a clear record behind us, together we persevered through an experience like no other. Stages one and two are complete. Now comes the third and perhaps most difficult stage.
In 2020, with foresight and vision, the Board prioritized not only the immediate, but the future. Stage three involves identifying and addressing the lasting impacts of the pandemic on our cities and their leaders, and on the League.
In more definable terms, stage three is the challenging work of assessing what the pandemic means for all of us going forward. We want to learn how to best continue being responsive to a changed environment. We've met your needs in the past, but it's what we do in the future that matters now.
This past year has brought us virtual learning, work from home, living with more economic uncertainties, and a new sense of flexibility. Many of these changes will endure for the near future, but we need to learn more about the longer term.
That's why we think about the third stage not as a sprint, like stages one and two, but more of a middle-distance race. Fortunately, with the administration of vaccinations well underway, there's some light at the end of the pandemic tunnel.
We are beginning stage three in earnest. It's more inclusive, more involved, and requires the input of our members. We want to know how your work has evolved over the past year, and what that means for the services provided by the League.
For example, this past year, we shifted from in-person to online learning. How should we best provide training in the future? How do we align our programming and resources to accommodate changing preferences? We know that the social and personal elements of meeting in person, experiences valued by many, were lost this past year. How important is it for those to return?
League staff members are already collecting information. We are joining city officials throughout the state in small listening sessions. Through these invaluable firsthand conversations and testimonies, we are hearing a lot about your successes (spending federal relief funds, for example) and your challenges, distinct and diverse as each of you and your cities. We are hearing firsthand how the impact of the pandemic was different and unique for each of you. There was truly no "one-size-fits-all" impact.
Internally, the League is carefully evaluating our work with respect to finances, operations, advocacy, and programming. As we ponder the next fiscal year, we will consider variables such as member input, best practices, data and trends, and our financial capacity.
Though the past year has been challenging, we have been given an opportunity like no other to embrace stage three and its potential for reimagining our organization and work.
My goal is simple. When we are finished, I want to look our members, the Board, and staff in the eyes and say, "The League did its job." We can close the book on stage three with the same level of pride and confidence we did in stages one and two.
David Unmacht is executive director of the League of Minnesota Cities. Contact: dunmacht@lmc.org or (651) 281-1205.