Back to the Mar-Apr 2021 issue
It's Up to Us: Keep Local Government Strong and Effective
By David Unmacht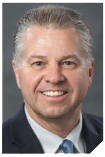 Local government is the highest-functioning and most responsive level of government. These words particularly resonate as we witness the ongoing discontent and political dysfunction in the nation's capital and in our state capital of St. Paul.
The politics of division dominates the news, social media messages, and the mental and emotional fabric of our democracy. In my lifetime, I would have never thought that our fellow citizens would storm the U.S. Capitol building. I've been in the building countless times; I've walked the grounds; it's the collective symbol of our history, our nation. Tears welled up in my eyes as I watched the events unfold on Jan. 6.
For most of my 38 years in local government, I've observed that Politics with a "capital P" is the norm in Washington, as that is a part of how a (largely) two-party system of representative democracy works. Politics is expected in our state Capitol building as well, but since we know our state elected officials better, we have high expectations for Minnesota state government to function.
In local government, though, we have politics with a "small p." It is not about party or partisanship, but about people served. This quality — inherited from our predecessors — is the foundation upon which all people in local government operate within today.
Minnesota local government works. Yet, I am very concerned that the influence of party and partisan politics — on both sides — is happening in city halls. This is not new but is taking on more prominence, given the tone set in Washington and St. Paul.
I hear words of worry from city officials in my travels; I listen to concerns of colleagues in private conversations; and I read and monitor the news. From outright or tacit endorsements of local government candidates to personal agendas that stray away from the core of local government functions, the influence of party and partisanship is a small leak requiring our understanding and attention before the dam breaks.
Minnesota has a strong foundation of effective local government. Our legacy is a gift in time passed down to us from our predecessors with an invitation to use it wisely and richly today to serve the needs of our residents.
Our work is political; mayors and city council members are elected, have differences of opinion, debates, and disagreements — this is natural and healthy. I know that cities and city officials can struggle with relationships and contentious issues, but we must never use our privilege to represent or serve an interest other than residents of our communities.
Minnesota cities are on the ground floor of government. We plow roads, we build parks, we promote economic development, we create jobs, we build neighborhoods, we provide fire and police protection, we respond to accidents, we save lives, and we ensure the water is safe and clean.
Minnesota cities are effective. We balance our budgets, we audit our books, we collaborate with neighboring cities and other local governments, and in our state, we have a solid and established reputation for ethics and professional management.
Minnesota cities are responsive. We adapt and change as society changes. We tackle both persistent and emerging issues like race equity, post-traumatic stress disorder, and first responder mental health. And, with pride and confidence, our local governments have done an outstanding job of responding to and supporting our communities in the face of the worst public health crisis in a century. The COVID-19 pandemic has tested us like nothing else in our careers, and we are showing our residents the best our cities have to offer.
We, as individuals and city officials, have choices. We want our federal and state government officials to work together, and we respect the nature of politics, but they must do better. We can't continue down this road. I'm not alone in offering this observation, but the trickling down cuts right to the heart and soul of who we are and who we've been for decades. It's a road our local governments did not build, and one on which local officials should resist traveling.
Personally and professionally, I will do all I can to continue the long, strong tradition of success in Minnesota local government. It's my pledge, our obligation together as a community of city governments, and the League's mission. It's our time; it's ours to maintain or lose.
David Unmacht is executive director of the League of Minnesota Cities. Contact: dunmacht@lmc.org or (651) 281-1205.