Back to the Jul-Aug 2020 issue
Let's Make the Most of This Opportunity for Change
By David Unmacht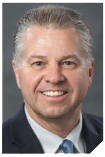 How many societal watershed moments do individuals get to experience in a lifetime? History books select events according to the writers' wishes and then offer generations of readers perspective and viewpoints. We also see books with titles like Photos of the Century.
Much time, research, and reflection are put into such publications. On the other hand, individuals, families, and organizations react and adapt in a much narrower window of both time and response. In my family and job, there is little time to think about history, a short time for reflection, and the immediate pressure for action.
Two recent events define our times and can be recognized as possible watershed moments. One is a certainty; the second remains to be determined.
First, the certainty: a pandemic and the ensuing public health crisis and economic fallout. Now four months into the pandemic, our systems and society are opening, although we are clearly not yet "out of the woods." We are adapting and acting in correlation to our personal, family, and organizational risk tolerance. There are words and phrases we will forever attach to this event, including Zoom, virtual meetings, flattening the curve, masks, COVID-19, executive orders, etc.
Without a playbook to guide us, the League and our member cities stood tall and responded in kind. The financial challenges cities face will be around for months or years, and how the crisis ultimately impacts the League and our members won't be fully understood for some time.
Second, we have a crisis in confidence as long-simmering prejudices among some members of the Minneapolis Police Department have been widely exposed in the aftermath of the tragic death of George Floyd at the hands of four police officers. The protests and demands for systemic change have stretched across our state and country, and all throughout the world.
Protests are common in our democracy. But the images, photos, and words now feel different, as people of all colors, ages, and backgrounds are involved. There is no urban-rural distinction; both young and old participate. And the passion, personal impact, and emotion ring deeper than I've ever witnessed.
Is this a watershed moment for our society? Are there lessons we can learn from the past and recent protests that can teach us how to avoid repeating past errors? Unlike the pandemic, which can be categorized instantly, the killing of a Black man by white police officers has happened before, and little to nothing has changed. So, how do we ensure this is our watershed moment?
Three words define the first steps to permanent change: understanding, leadership, and trust.
We know and understand that the vast majority of protesters are peaceful. My daughter and her boyfriend have participated in peaceful protests; I am proud of them for standing up for what they believe. We also must understand that most police officers are good people who signed up to serve and protect. The distinction matters, and let's not do a disservice to individual protesters and officers.
But there are clearly systemic issues that affect people of color. There are thousands upon thousands of law enforcement agencies in our country. How can systematic change happen societally on such a large scale? New legislation and laws, structural change, and other macro attempts are going to occur.
Disagreements, disputes, and differences of opinion are commonplace. Yet, there is an equally important question each of you, as a city official, must ask yourself: Where do I start?
How can one city, one mayor, a council, administrator, or police chief make a difference? This is where leadership comes in. To effect change, gaining or earning trust is everything. What is the level of trust between the citizens and the police department or sheriff 's department that serves your community? Don't be afraid of the answer; it might surprise you and it will guide your next steps.
In learning about your law enforcement department, consider how it hires and trains its staff, how it determines operational policies, what its disciplinary standards are, and what the condition of labor-management relations are. Education and understanding can lead to new awareness, better decisions, ownership, and positive reforms.
Law enforcement operates in a command and control culture. It's time to open the window to that world, to better learn and understand the inner workings of departments. I am confident that together, if we all do our part, we will make change to ensure that George Floyd — and all the other men and women who have been unjustly killed — did not die in vain.
David Unmacht is executive director of the League of Minnesota Cities. Contact: dunmacht@lmc.org or (651) 281-1205.