Back to the Jan-Feb 2021 issue
Top Priorities for Newly Elected City Officials
By David Unmacht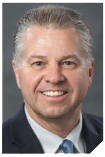 The holidays are in our rearview mirror, and we are now beginning the longest part of winter. Yet I write my first column of 2021 full of optimism and genuine enthusiasm for the start of a new year and with much hope about the possibilities that a COVID-19 vaccine will bring.
Your family traditions, like mine, were likely upset and altered due to pandemic safety precautions. In my household, both Thanksgiving and Christmas were much different and included two firsts. We had our smallest Thanksgiving gathering in memory (five), and an expanded Unmacht family Christmas 61 years in the making (for me), was called off — with no questions or doubt from anyone.
My mother is 88 years old and doing well, so in mid-December in lieu of the traditional Christmas (following a negative COVID-19 test), I drove alone to Dubuque, Iowa, to spend valuable time with her. I wrote this column from the basement of my boyhood home. The trip offered time to reflect on this past year, the year ahead, and to focus on the essential question of "What's really important?" Elections, pandemics, change, and losses — these kinds of things can cause a person to do that.
At the end of 2020, we said goodbye to many retiring longtime elected leaders: mayors and council members alike. Decades of experience, wisdom, knowledge, and leadership moved on to pave the way for eager newly elected leaders who bring an earnest and sincere passion to serve, a thirst for knowledge and information, and a desire to make a difference. If you are among the latter, you are likely wondering how to start, where to spend your time, and how to prioritize all the important work ahead.
You may be surprised by this, but your most important priority is not the tax base of your city or the new fire truck the city needs, but your own physical and mental health and the mental health of your loved ones and your city team. You may ask, "Hasn't emotional, psychological, and physical well-being always been important?" Yes, but never more so than now. You will succeed far above expectations and be strong for the long haul of elected life if you have a steadfast commitment to the overall health of yourself and of those around you.
The second priority is to learn and understand the values of your city. What's important and why? How do we make decisions? What practices and protocols do we follow? What do we believe in? Answering these questions will ground you in the culture of governance and provide a foundation for your entry (or deeper dive) and experience. In some cases, you will want to make changes; in other cases, you will discover you like what you see and will work to reinforce existing behaviors. Above all, do not prejudge; listen, learn, discover, and be curious.
A close third is relationships. We have enough stress in our systems (you know exactly what I mean) to give everyone a migraine twice over. Minnesota has a rich history of good government, especially at the local level. Politics, the "small p" variety, is a relationship business. You accomplish goals not by bullying or yelling, but by building consensus and communicating honestly with your peers, city staff, and citizens. Fast forward to the end of your career — whether it lasts four years or four decades — what you will remember most is the people you met, the relationships you built, and the work you did together.
Finally, make it a priority to be true to yourself. Look in the mirror every day and ask, "Do I like what I see?" Don't overpromise, don't be a know-it-all, be human. You will make mistakes, you will regret votes, you are not perfect, but no one is. Being honest about who you are, what you bring, and what you want to do in your city will go a long way toward your success. Focus on the big picture — it is often far more important than the everyday stuff. Yes, it's much harder, but you will be far richer for it.
As an elected official, you learn to count to three or whatever a majority vote is, but votes are transactions that change, and come and go. There is only one of you, so be who you are and rely on colleagues, peers, and others to help you. You will quickly find yourself helping others, too.
David Unmacht is executive director of the League of Minnesota Cities. Contact: dunmacht@lmc.org or (651) 281-1205.