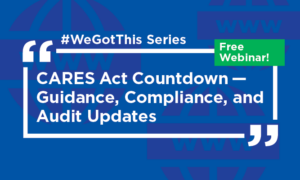 Get the latest news on Coronavirus Relief Funding reporting requirements.
Next month, cities will need to submit their final reports for Coronavirus Relief Funding. What will you need to do to comply with state and federal regulations?
During a free webinar on Oct. 27, Amy Jorgenson from Minnesota Management and Budget will take you through the most recent updates, provide details on the audit compliance supplement, and share answers to frequently asked questions related to CARES Act Funding.
During this webinar, you will:
Explore CARES Act reporting requirements.
Hear updates on Treasury and Minnesota Management & Budget guidance.
Learn information on the audit compliance supplement.
Get reminders as the Coronavirus Relief Funding covered period comes to a close.
Do you have questions about CARES Act reporting? Send them to lmcwebinar@lmc.org by Oct. 23 — Amy will answer as many questions as time permits.
Looking for more information on CARES Act funding? View some of the League's past webinars:
#WeGotThis Series: CARES Act Funding — What to Expect
#WeGotThis Series: CARES Act Funding Reporting Requirements
#WeGotThis Series: CARES Act Funding — Changes to Reporting Requirements
Speaker
Amy Jorgenson, Director, COVID-19 Response Accountability Office, Minnesota Management and Budget
Moderator
Amber Eisenschenk, Research Manager, League of Minnesota Cities
Audience
City administrators, city managers, clerks, mayors, councilmembers, and finance managers
Date & Time
Oct. 27 — 11 a.m.-12 p.m.
A recording of this webinar will be available by Oct. 28.
Fee
Free
You will be participating via the internet using GoToWebinar. An email confirmation with instructions to join the session will be sent after registration is completed. Please note: If you don't receive your email, check your junk or spam folder.