Get data from your area to inform your decisions.
This September and October, the League is partnering with Minnesota Compass, the Wilder Foundation, the Blandin Foundation, the McKnight Foundation, and the Minnesota Service Cooperatives to host webinars for city leaders on the Minnesota Compass tool. You will be able to take part in two online events: a webinar featuring information on Minnesota Compass (for everyone across Minnesota) and Zoom roundtables (for Greater Minnesota) focused on data from your region.
Please note: These Virtual Town Halls focus on regions in Greater Minnesota. However, if you are in the metro area, you can check out the Minnesota Compass Demo on Oct. 8 (see more information at the bottom of this page).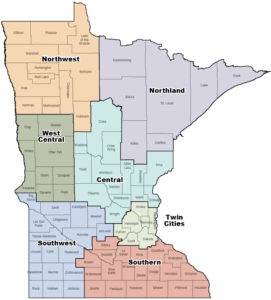 Finding the Data You Need
In September and October, cities can take part in informal townhalls held via Zoom where you'll learn about the latest demographic and economic trends in your region, including available data demonstrating the impacts of the COVID-19 pandemic. Minnesota Compass researchers will also ask for your feedback to shape the information and insights they make available to support community leaders and decision-makers as they navigate the COVID-19 pandemic.
Get to Know Minnesota Compass
Take part in a free webinar on Oct. 8 where Ellen Wolter from Minnesota Compass and the Wilder Foundation will provide an overview of the Minnesota Compass tool. During this short demo, you will learn how to find the information you need for your region.
More Resources
Explore the Minnesota Compass tool.
Learn how to build your own tool.
About Minnesota Compass
Minnesota Compass is a social indicators project that measures progress in our state and its communities. Led by Wilder Research, Minnesota Compass provides nonpartisan, credible information and tracks trends in topic areas such as education, economy, workforce, health, housing, and a host of others.
Data and analysis on www.mncompass.org gives everyone in our state — policymakers, business and community leaders, and concerned individuals who live and work here — a common foundation to identify, understand, and act on issues that affect our communities.
Compass does this by:
Providing unbiased, credible information.
Tracking trends and measuring progress on issues that impact our quality of life.
Identifying disparities by race, age, gender, and income as data are available.
Providing additional resources for addressing issues.
Minnesota Compass was developed when leaders from around the state voiced a desire to have credible, easy-to-access data about what was happening in their communities across Minnesota. As a result, Wilder Research worked with advisors representing business, government, nonprofit, and philanthropy to develop and implement Minnesota Compass as a statewide resource for reliable data.
Presenter
Ellen Wolter, Research Scientist, Minnesota Compass and Amherst. H. Wilder Foundation
Audience
City Clerks, Administrators, Managers, Finance Directors, Finance Staff, and Human Resources Directors
Fee
Free
Dates/Times
Townhall Zoom Meetings
Southern region: Sept. 30 — 11 a.m.-12 p.m.
Register for the Southern Region
West Central region: Oct. 6 — 11 a.m.-12 p.m.
Register for the West Central Region
Please note: Zoom meetings are limited to 30 registrants per date and no more than four participants per city. An email confirmation with instructions to join the townhall will be sent after registration is completed. If you don't receive your email, check your junk or spam folder.
Minnesota Compass Demo
Oct. 8 — 11-11:45 a.m.
Register Now!
A recording of this webinar will be available by Oct. 9.
You will be participating via the internet using GoToWebinar. An email confirmation with instructions to join the session will be sent after registration is completed. Please note: If you don't receive your email, check your junk or spam folder.