Managing Difficult Conversations with Colleagues and Constituents, a Braver Angels Workshop
Elected officials frequently communicate with constituents and colleagues who hold different points of view.  As our communities grow more politically polarized and public dialogue becomes more confrontational, leaders need to develop skills to better navigate disagreements and encourage a more constructive work environment.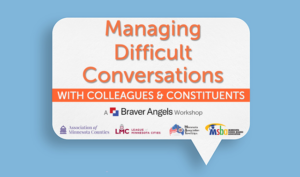 Attend a Braver Angels workshop to:
Hear experiences of colleagues from across the state and different areas of public service.
Learn practical skills to help mitigate the stress of difficult conversations and help you proceed with more confidence in your role as a leader.
Gain strategies to better soften critics and find common ground in an increasingly divisive environment.
These free workshops are brought to you through a collaboration between Braver Angels, the League of Minnesota Cities, the Association of Minnesota Townships, the Minnesota School Boards Association, and the Association of Minnesota Counties.
Register now via the Association of MN Counties webpage!
---
Who should attend?
Elected officials are the primary audience, city staff may also attend.
Fee
Free
Braver Angels Facilitators:
Bill Doherty, U of M professor and Braver Angels founder
Lucy Gerold, retired Minneapolis police commander
JoAnn Ward, retired Minnesota legislator
---
Dates/Times/Locations
Choose one of the following workshops:
Wednesday, May 10 (1-3:30 p.m.)
Development Services & Infrastructure Center (DSIC)/North Station
Community Room A&B
4001 West River Pkwy NW Suite 100
Rochester, MN 55901
Wednesday, May 17 (1-3:30 p.m.)
Minnesota School Boards Association
1900 Jefferson Ave
St. Peter, MN 56082
Wednesday, May 24 (1-3:30 p.m.)
Sourcewell
202 12th St. NE
Staples, MN 56479
Wednesday, May 31 (1-3:30 p.m.)
Minnesota Counties Intergovernmental Trust
100 Empire Dr. STE 100
St Paul, MN 55103
Space is limited to 50 registrants at each location.