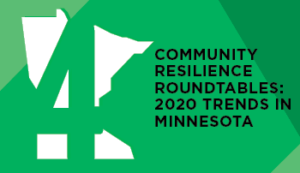 —League events and the coronavirus
Because of COVID-19 concerns and after considering the guidance of the Minnesota Department of Health, the League of Minnesota Cities, along with the hosting partner agencies, has decided to postpone the Community Resilience Roundtables indefinitely. We will seek to reschedule these for a future date and will update members once registration opens up again. The health and safety of our members, staff, and speakers are our first priorities.
What does it mean for a community to be resilient? Join fellow city officials, along with colleagues from counties, school boards, and townships, to discuss a wide range of trends affecting communities across the state, including:
Aging
Technology
Immigration
Economic volatility
Workforce challenges
Housing
Facilitators from the Center for Rural Policy Development and the University of Minnesota-Extension will share insights and lead discussions as you explore ways local government leaders can come together to address how you can work with each other during these changing times. All city officials, particularly top appointed officials and department heads, are encouraged to attend.
Community Resilience Roundtable Partners
The Center for Rural Policy Development is a non-partisan, not-for-profit policy research organization dedicated to benefiting Minnesota by providing its policy makers with unbiased information and evaluation of issues from a rural perspective.
The University of Minnesota-Extension's Rural Stress Task Force applies programming and expertise to help families respond to current economic, environmental, and societal challenges that affect communities across the state. The team works with state agencies and agricultural organizations as well as colleagues throughout the University of Minnesota.
Speakers:
Julie Tesch, President & CEO, Center for Rural Policy and Development
Marnie Werner, Vice President of Research & Operations, Center for Rural Policy and Development
Kelly Asche, Research Associate, Center for Rural Policy and Development
Emily Wilmes, Task Force Director & Extension Educator, Livestock, University of Minnesota-Extension Rural Stress Task Force
Megan Roberts, Extension Educator, Agricultural Business Management, University of Minnesota-Extension Rural Stress Task Force
Audience: Top appointed officials, department heads, and elected officials
Registration Fee: FREE
Please note: This workshop is free of charge, but registration is required. Lunch is not provided for this workshop.
Time, dates, & locations: To be announced
The League of Minnesota Cities is co-sponsoring this event with the Association of Minnesota Counties, Lakes Country Service Cooperative, the Minnesota Association of Townships, the Minnesota School Boards Association, Sourcewell, the Southwest West Central College, and University of Minnesota Extension.