First Responders: Become a Peer to Peer Counselor
Register using the links below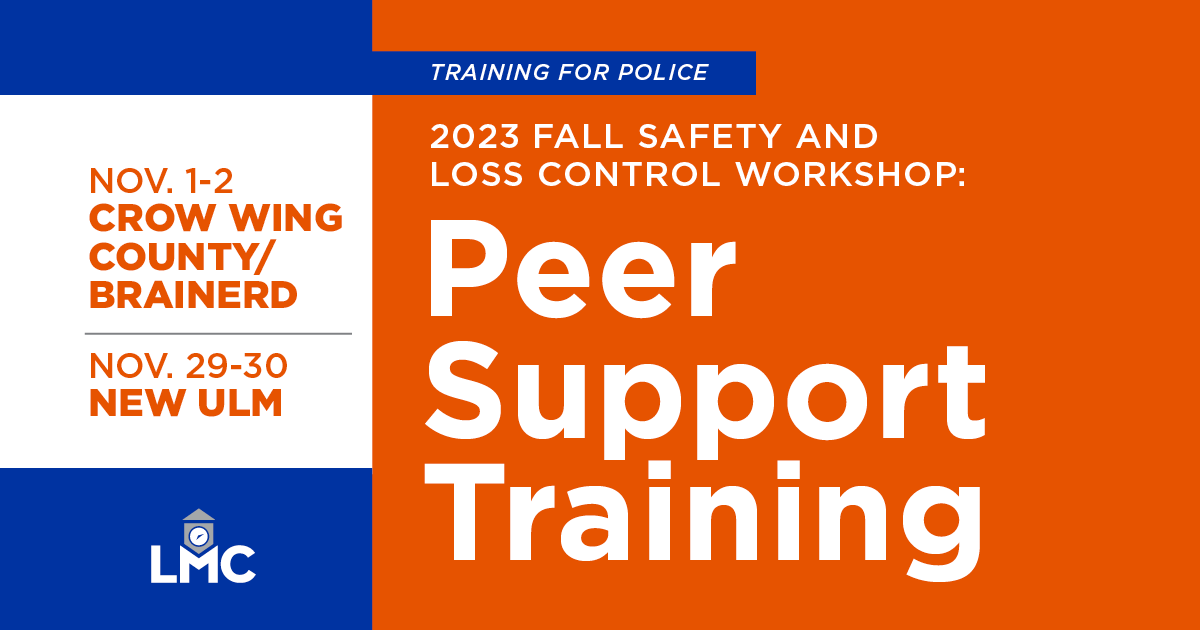 This fall the League of Minnesota Cities Insurance Trust (LMCIT) is sponsoring a Department of Public Safety (DPS)-approved Peer Support Training that meets the DPS 30-hour requirement for anyone wanting to become a public safety peer to peer counselor in Minnesota. This training will consist of two consecutive days of in-person training as well as online learning. After completion of in-person and online training, attendees will:
Understand their role and responsibilities of a peer support worker and enhance their communication, interaction, decision-making, and support skills
Be able to assess their own level of resilience and understand ways to enhance resiliency, be a model of wellness, and avoid burnout in this role
Have the knowledge, skills, and abilities to help peers move toward recovery
Have basic awareness to recognize signs of mental health challenges and how to provide peer support and access professional care
Learn additional crisis management training, gain knowledge of how to identify and safely manage a crisis situation with a peer
In addition to the foundational concepts of being a peer support team member, attendees will also learn the basics of setting up and maintaining the team, how to conduct defusings at your agency, and options for clinical consultation for your team.
More details about the 30 hours of training
The Peer Support Training will follow a blended learning format to meet the 30 required hours. The in-person portion (16 hours) will be held over two consecutive days. The online portion will be delivered in two parts. The majority of the online training will be available on-demand and must be completed prior to the in-person course. The online content for the Brainerd workshop will be available starting Oct. 11 and the online content for the New Ulm workshop will be available starting Nov. 7. Following the in-person training, there will be two final hours of online training. This will be a live session. However, if you are unable to attend the scheduled session, a recorded version will be available.
Credits
This training is designed specifically for first responders and public safety staff, including but not limited to: peace officers, firefighters, and 911 dispatchers. It has been approved by DPS and POST. Please note: Anyone who has taken a POST approved Peer Support Training prior to Nov. 1, 2020 is grandfathered in as a Peer Support Team Member, regardless of the number of hours taken in the past.
The complete training is approved for 30 POST credits, including 24 hours of Crisis Intervention/Mental Illness Crisis credits.
Dates & Locations
Nov. 1 & 2 — Brainerd
8 a.m.-4:30 p.m. (check in starts at 7:30 a.m.)
304 Laurel Street
Brainerd, MN 56401
Nov. 29 & 30 — New Ulm
8 a.m.-4:30 p.m. (check in starts at 7:30 a.m.) 
526 8th Street North
New Ulm, MN 56703
Fee
$100 for League of Minnesota Cities Insurance Trust members
$450 for non-members
Fee includes lunch and breaks.
Presenter
Marie Ridgeway, MSW, LICSW, RYT
Marie Ridgeway & Associates opened in 2017 and specializes in working with law enforcement and first responders to provide mental health care, wellness programming, and consulting services. The practice is comprised of six licensed therapists who currently work with more than 40 public safety agencies across Minnesota. Ridgeway is a Master's-level mental health clinician with a specialty in treating post-traumatic stress and its secondary challenges. She has been a training specialist for the Minnesota Chiefs of Police Association and has worked individually with thousands of law enforcement officers from across the state.