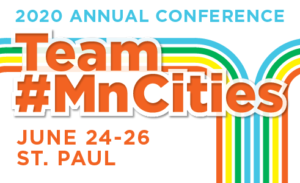 Start warming up for Team #MnCities — the League's 2020 Annual Conference this June in St. Paul!
—League events and the coronavirus
Take a break from the office at the League of Minnesota Cities 2020 Annual Conference! As part of Team #MnCities, you'll hear from inspiring speakers, get answers to tricky challenges facing Minnesota cities, create connections with fellow city officials from across the state, and more!
Highlights include:
Keynote speakers covering challenging topics, including leadership, culture, and communication.
Celebrate the first day of the conference in the exhibit hall Wednesday afternoon.
New ways to tackle challenges during 28 educational sessions.
Celebrating cities at the awards dinner Thursday evening.
Date & location:
June 24-26 — St. Paul
Saint Paul RiverCentre
175 W Kellogg Blvd
St Paul, MN 55102