League honors first responders with presentation of President's Award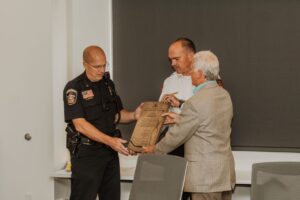 (August 19, 2021 – St. Paul) To recognize efforts made by public safety personnel, the League of Minnesota Cities today announced presentation of its annual President's Award to first responders — emergency medical services, police, and fire personnel — who work in our state's 854 cities.
The award plaque — presented by past League President and Minnetonka Mayor Brad Wiersum at the League's recent monthly Board of Directors meeting — was accepted on behalf of first responders by John Cunningham, Brooklyn Park fire chief and president of the Minnesota State Fire Chief Association; Debbie Gillquist, executive director of the Minnesota Ambulance Association; and Police Chief Eric Werner from the City of Maple Grove who is the president of the Minnesota Chiefs of Police Association.
The President's Award, given at the discretion of the outgoing president, is typically announced at the League's Annual Conference Business Meeting in June. The 2021 conference was held virtually due to COVID-19 considerations.  Winners include those that have made significant contributions to cities in the state and those that have advanced the League's ability to do so.
Over the past year, First Responders serving needs of COVID-exposed residents routinely risked their own health and even their lives. The work of first responders was complicated not only by pandemic challenges, but a state and a nation reckoning with the repercussions of racial injustice.
Wiersum cited first responders for, "… always answering the call for service in a crisis, for their leadership in addressing health and wellness issues both within the community and their own agencies, and for their dedication to ensuring mutual trust with the residents they serve."
"This award reflects the League's commitment to, and unwavering support of our state's first responders," Wiersum said. "They are public servants working on the front lines each and every day to keep residents safe."
The League of Minnesota Cities is a membership association dedicated to promoting excellence in local government. The League, governed by a Board of Directors consisting of local elected and appointed city officials, serves its more than 800 member cities through advocacy, education and training, policy development, risk management, and other services. For more information, visit www.lmc.org.