League of Minnesota Cities selects Luke Fischer as new executive director
(May 4, 2023 – St. Paul, Minn.)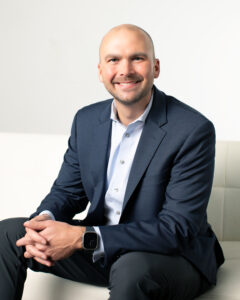 The League of Minnesota Cities (LMC) Board of Directors has named Luke Fischer as the new executive director of the LMC, a statewide membership organization dedicated to promoting excellence in local government. He replaces Dave Unmacht, who previously announced he will retire this spring after eight years in the executive director role. Fischer will assume the position May 22.
Fischer has served as LMC deputy director since 2017. Prior to joining the League, he worked in city government in several communities in Minnesota, including as administrative services director in Plymouth, city administrator in Watertown, and assistant to the city administrator in Delano. A Delano native, Fischer holds a bachelor's degree in political science from St. John's University and a master's degree in public administration from Minnesota State University, Mankato.
As deputy director, Fischer put a strong emphasis on member engagement and has traveled across Minnesota to meet with city officials in many of the League's 838 member cities. He also oversaw a massive remodel of the League's offices in St. Paul, helped modernize the organization's events and learning programs, and worked closely with Unmacht, League staff and board members to lead the LMC and its member cities through the challenges of the pandemic.
"Luke truly gets our members," said LMC President and Bemidji City Council Member Ron Johnson. "From the small rural communities to the large metro cities — and everything in between — he takes time to listen to city leaders' concerns and strives to find solutions to make sure all Minnesota cities are strong, vibrant places to live and work. I look forward to continuing to work with Luke as we move the League into the future."
Unmacht, who is retiring after a career spanning more than 40 years in local government, expressed confidence in the board's selection.
"I am happy and excited for Luke and the League," Unmacht said. "I have worked closely with Luke for several years and seen first-hand his passion for member engagement and his commitment to the League's mission. I'm confident he is the right person to lead the organization as it transitions into this next phase of leadership."