Long-time lobbyist Gary Carlson to retire from League of Minnesota Cities, Anne Finn promoted to director of Intergovernmental Relations Team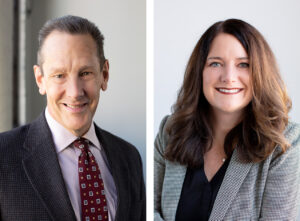 After nearly 40 years representing Minnesota cities at the Legislature, League of Minnesota Cities (LMC) Intergovernmental Relations Director Gary Carlson has announced plans to retire at the end of the 2023 legislative session. Anne Finn, who currently serves as assistant director, has been promoted to take over the director role after Carlson steps down.
After stints working in government relations for the City of Minneapolis and a private firm, Carlson joined LMC as a lobbyist in 1991. Throughout his career, Carlson has been a prominent advocate for local governments, particularly in the areas of tax policy and pensions. He has led LMC's Intergovernmental Relations Team since 1994, overseeing a team of six lobbyists who represent nearly all of Minnesota's 854 cities on a vast array of issues such as housing, public safety, transportation, land use, environmental regulations, and more.
"Gary is a key reason the League has built such a positive reputation at the Capitol," said LMC Executive Director Dave Unmacht. "He's a master of many technical policy issues, but he is also a brilliant advocate for cities. Minnesota's communities are stronger today because of Gary's hard work and dedication."
LMC President Ron Johnson, who serves on the Bemidji City Council, echoed Unmacht's comments. "Everyone at the Capitol knows and respects Gary. Our cities have been incredibly fortunate to have him on our side, fighting for policies and resources that benefit communities across the state."
Carlson's last day as director of the LMC Intergovernmental Relations Team will be Feb. 20, 2023, after which he will continue to work part-time through the conclusion of the legislative session.
"It has been an honor and privilege to serve the League of Minnesota Cities for the past 31 years," Carlson said. He added he is looking forward to handing over the reins to Finn, with whom he has worked side-by-side since she joined LMC in 2000.
"Anne is a tremendous advocate for cities," Carlson said. "I am confident she will be able to build on the great work our team has accomplished over the years and lead the League into the future."
Finn expressed excitement about assuming the director position, but she will miss Carlson's mentorship and deep knowledge of Minnesota laws and government.
"I feel a deep sense of gratitude for the opportunity to lead the League's legislative efforts," Finn said. "I hope to continue Gary's legacy of providing excellent services to our members and maintaining the League's strong reputation at the Capitol."
###